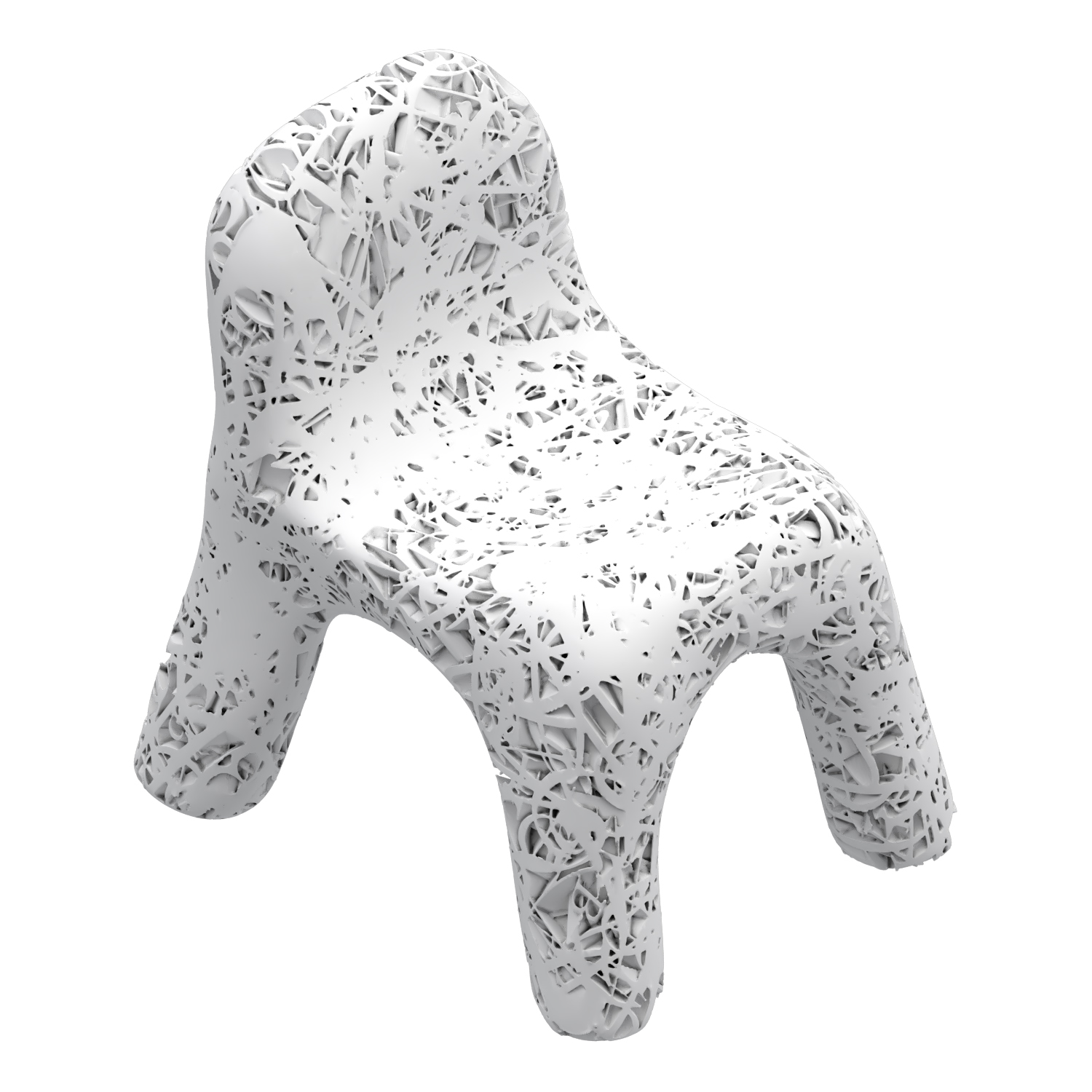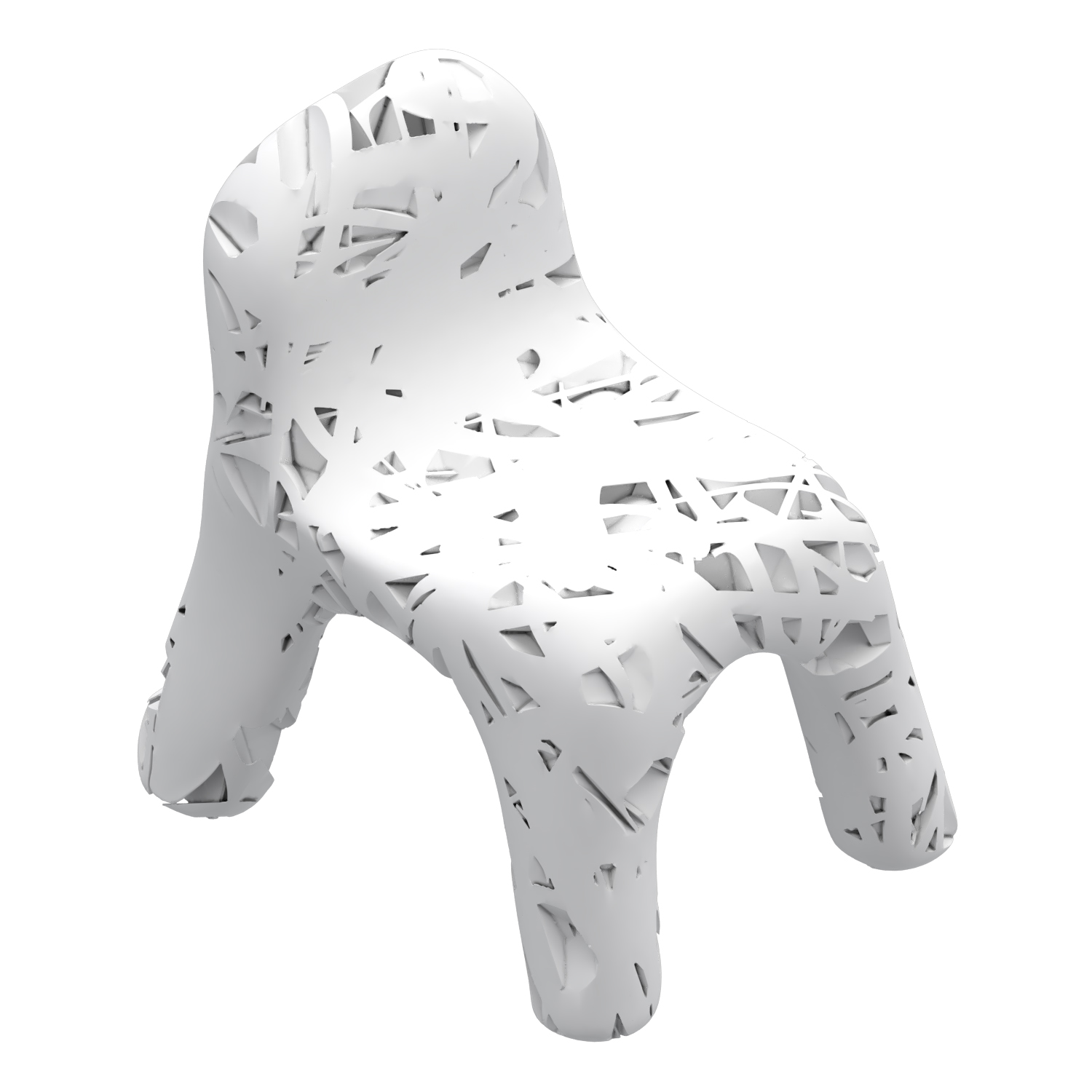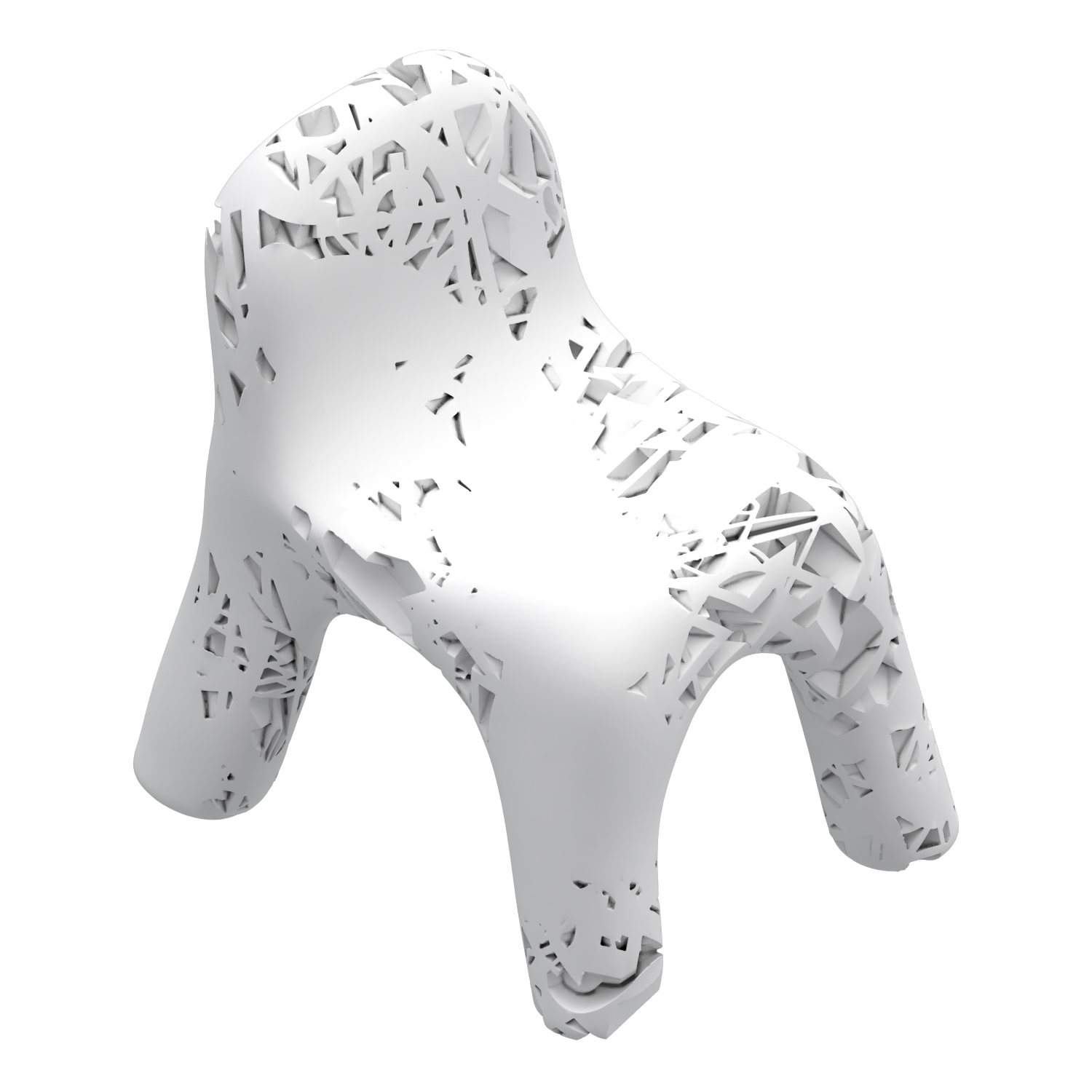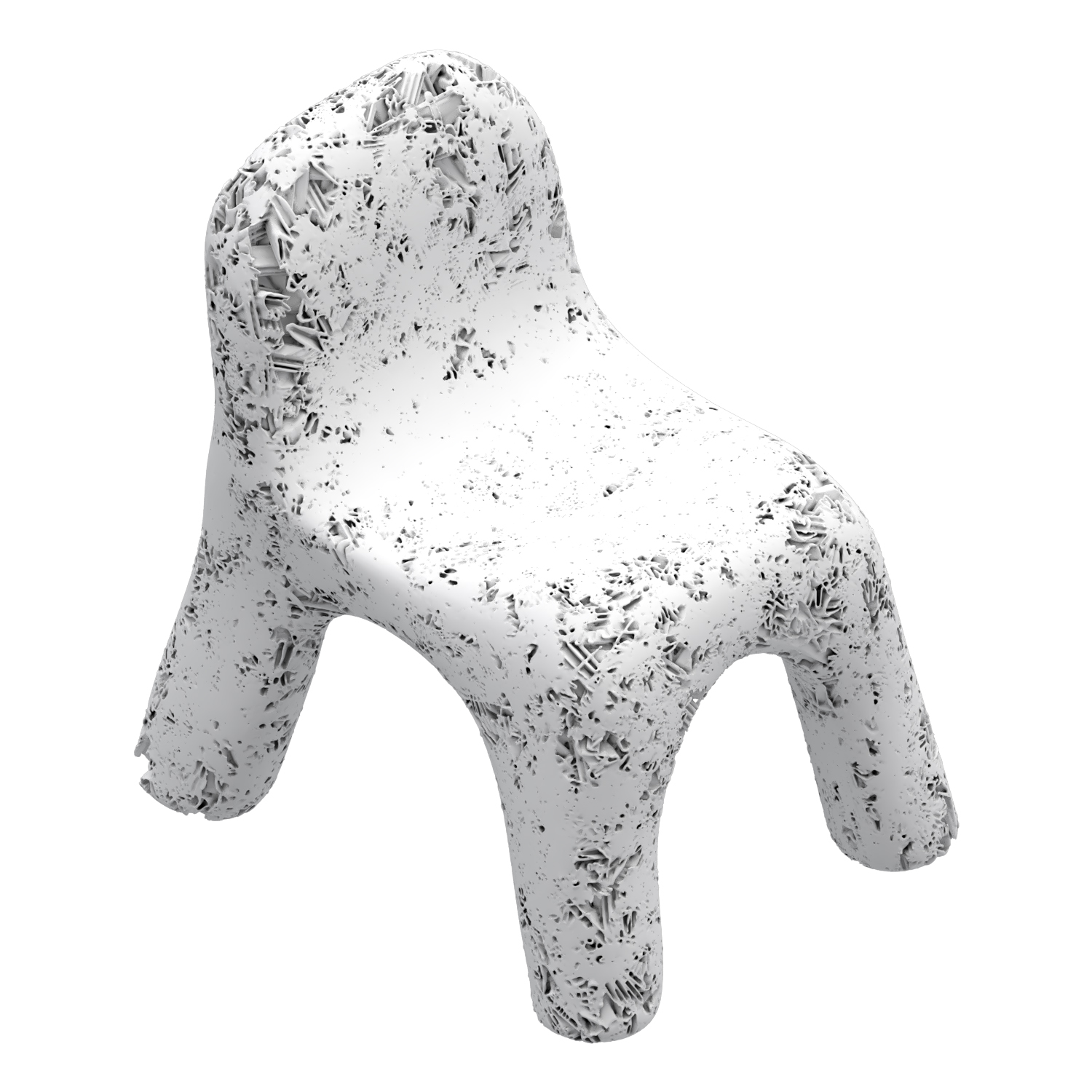 ---
Does embedding familiar objects in a form create an emotional attachment to it? The Type Chair explores one's ability to sense the presence of a familiar shape without the ability to discern its presence quickly. The Type Chair also investigates whether certain typefaces or letters are more economical than others. Through 6 fonts - Helvetica, Futura, Times New Roman, Garamond, Comic Sans, and Wing Dings - we analyzed each for their impact of material efficiency, print time, and aesthetics on a generic chair volume. Published at
ARCC 2019
Collaboration with
Frank Jacobus
Helvetica
Comic Sans
To place material where it would be most beneficial from a structural standpoint, we broke the chair down into six distinct parts. The legs and joints needed enough material to support the user. The seat and back face needed enough material to be comfortable for the user to sit.
---
Leftover lots litter cities. Whether the result of an iron-clad grid on an organic landscape, zoning, or transportation routes, developers ignore these lots due to their perceived difficulty in size or shape. Boilerplate designs will not work on these oddities.
It is that oddity, however, which gives the lot inherent value. The constraints generate unexpected programs and forms necessary to make each unique site viable.
Automatic Architecture is an on-going project which parses through thousands of sites to find lots that meet criteria - small lots with an irregular lot line and no existing structure. An additional layer of proforma data expands the GIS information to provide an analysis of building costs vs. income possible with different programs.
Two Fold Table
---
Do recognizable profiles maintain their familiarity out of context and transformed? How many times can an image be processed before it is unrecognizable from it's original?
Two Fold Table explores the boundary between figure and abstraction.
The algorithm takes any curve and folds it around the bounds of the coffee table. Then it extracts and organizes only the versions that will work with the constraints of fabrication of the metal.
Collaboration with
Frank Jacobus
---
901 McKee is a proof-of-concept for
Automatic Architecture
. An algorithm located the site by parsing publicly available GIS data and identified small, odd-shaped lots in specific locations of Houston, TX. Proforma data refined the process by automatically approximating the financial feasibility of each project.
901 Mckee sits in the Warehouse District just outside downtown Houston. Due to its location and the vibrant artist community in the area, the program is well suited for mixed-use residential + workshop/retail.
Collaboration with
Andres Utting
---
The goal for this project was to produce efficient, affordable, high-quality housing units to shelter the homeless population of Chicago between the ages of 18 to 24. The size of the unit had to provide a private space in the planned development where young adults could safely store personal belongings, including clothes, textbooks, and legal documents. This unique typology allowed for the utilization of off-site modular fabrication of individual units that are then delivered and installed as complete units on site.
Each home consists of 2 pre-fabricated modules: a steel tube chassis with light gauge steel wall assembly and a plumbing & HVAC module containing a closet, bathroom, kitchen, plumbing connections & slim duct HVAC system. The layout of the unit utilizes the plumbing & HVAC module as a functional division between sleeping and living/work areas in the unit, while still allowing for an open layout with a continuous accessible corridor.
The program for each unit includes a fully accessible bathroom, full kitchen with range, microwave, large closet for storing personal items and a flexible living/dining area with a large workspace. Also, there is a single large window and glass paneled door at opposite ends to take advantage of sunlight, reduce thermal breaks in the module and provide cross ventilation in warmer months. For security and privacy, each window and door has an operable, perforated metal screen on the facade.
Offsetting the units allows the plumbing & HVAC modules to stack and reducing heat loss while providing each unit privacy. Two sets of metal stairs, with trash & recycling below, connect to a metal walkway attach to allow access to the second-floor units. At the southwest corner of the site is the communal space consisting of 3 modules: one for storage, bikes & laundry, one for office & meeting space and one for social gatherings. Adjacent to that is a hardscape surface for recreational activities and parking.
Collaboration with
Emaan Farhoud